The setting....Jonesborough Tennessee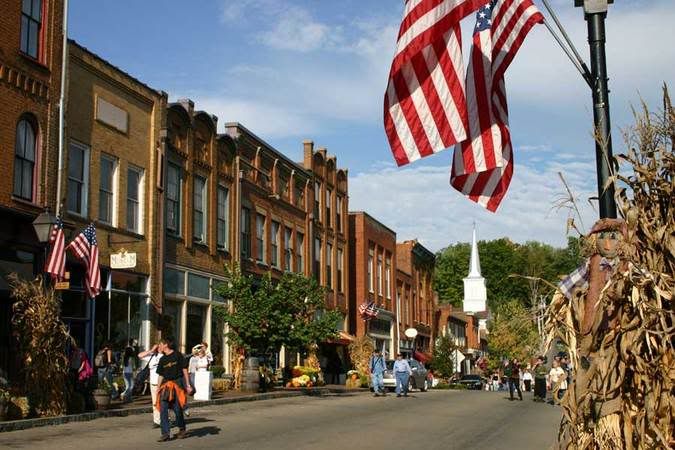 Any story contains those classic story elements we studied in English 101; plot, setting, characters. The National Storytelling Festival, a storied event in its own class, contains all these elements in abundance. Today's lesson will center on
setting.
Making the pilgramage to Jonesborough, the setting of our festival, is a bit like Exodus, at least if you live in a place like southwest Wisconsin. To make this, my first-ever trip south of the Mason-Dixon line, I traveled first to stay with friends Karen and Jim Decker, outside Chicago, so that I could join a bus trip sponsored by the McHenry County Storytelling Guild. Like those Old Testament characters in Exodus, I made my journey with fellow travelers, winding our way across the Illinois plains, through Indiana, crossing the Ohio River, across Kentucky and into the Great Smoky Mountains at night, through fog so thick it seemed to swallow up our bus at times.
I chose to begin reading
The Storyteller's Journey
by Joseph Sobol, before embarking on this journey of my own. In it, Jim May, storyteller from Illinois and fellow Northlands member, talks of the night time travel providing the transition from a daily routine into a magical place. Pushing through that fog, his point was made real for us.
The long day of travel finished, with half a scarf under my belt along the way, we crash in anticipation of the next day, first day of the Festival.
The Coach USA bus takes us the half hour through those smokin' mountains into the charming town of Jonesborough, already besieged by traffic. Pulling up the the Visitors Center, the bus spills out its contents--us!--and we begin to take in the sights. Slightly wet sights, as there is a misty drizzle hanging over everything. Even that can't deny the picturesque appeal of this lovely town.