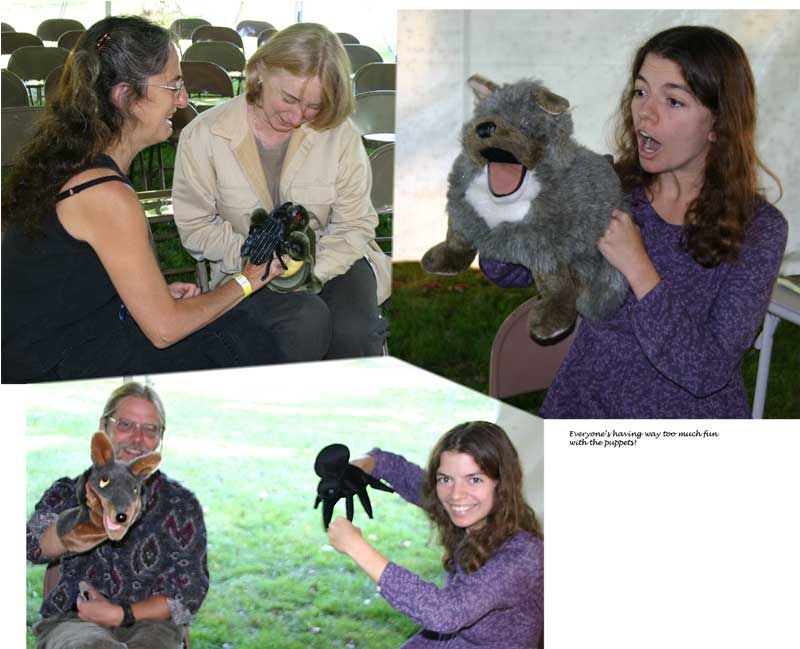 All fun and silliness with puppets over, it was time for the telling to begin. The disc golf players nearby were no doubt startled when the distinct strains of Scottish bagpipes opened the festivities of the day. Two tents, the Main Tent and the Children's Tent, would be filled with storytelling and music continuously till 9pm. True heaven on earth. Several of the Bluff Country Talespinners would be telling in the Main Tent, including yours truly, acting as "opening act" for our three featured tellers, Celia Farran of Sheboygan, Kevin McMullin of Spooner, and Teju of Milwaukee. I told my original story, "The Blue String," and felt good about my telling. Nods of recognition among the audience, laughter at the right places, and the wonderful collective sigh at story's end. I'm sure the highlight of the afternoon had to be Sara Slayton telling the story of the "Oleo Gang." I've heard Sara tell this tale many a time, one in which she relates the story of her travels with her "gangster" aunts and mother across the Illinois state line...to buy oleomargarine. Why would this then be a highlight? Well, in attendance that afternoon was the "Oleo Gang," her two aunts and mom. I didn't get to see their reaction, but I talked to them later, and they were suitably embarrassed by the attention, but not enough, apparently, to prevent them from standing up and waving to everyone when pointed out by Sara. Where was I when all this happened? Telling stories in the kids' tent, one of two of my stints in there.
It wasn't all stories and music, though. Several artists and craft vendors were on hand to sell their wares. Annie Gaspar of Mindoro was doing a brisk trade with the storytellers, all of whom seemed to buy one of her handpainted scarves. Lisa Belzer did a brisk trade in face painting, executed beautifully with watercolor pencils instead of paint. There was food, of course.
I had time to catch some of the featured tellers in between my own telling sets. I'd met all three at other festivals, even shared a stage once with the incredible Celia Farran at the Rockford Celtic Festival. I wish I had her voice. I wish I had her moves. I wish I had that wild red hair, which she says she has a great relationship with; it doesn't bother her and she doesn't bother it.
Our featured tellers this year all shared musical gifts; Celia her guitar, Kevin his fiddle and any number of instruments, and Teju..well, Teju has a djembe and shekere, but most of all, Teju has himself. Expect lots of energy when Teju's on the program!