If I'd known you were coming....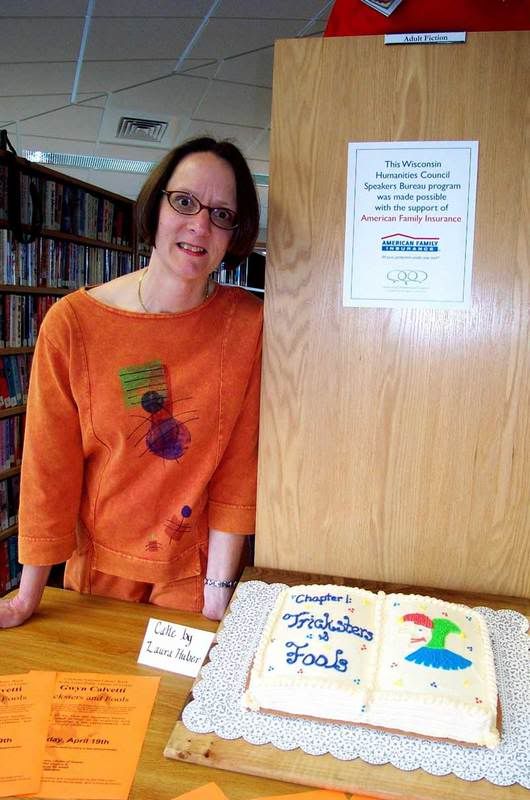 .....I'd have baked you a cake! As a matter of fact, that's exactly what the good folks of the
Lester Public Library
in Vesper Wisconsin did for me. I was hired to do a storytelling event for National Libary Week in the little bitty town of Vesper Wisconsin in the central part of the state. Though I'd gone to graduate school not far away in Stevens Point and knew of Vesper's existence, until this gig, I'd never actually been here. I am so glad I came.
Vesper is one of those little towns that are becoming rarer with each new subdivision. It stands by itself on a quiet state highway, equidistant from Marshfield, Stevens Point and Wisconsin Rapids. There are a couple taverns, a restaurant and a couple small shops on the main street, and...the library. Joann Ogreenc contacted me some time back about my "Tricksters and Fools" program offered through the
Wisconsin Humanities Council
. I was delighted to be heading back to this part of the state, and planned my visit so that I could spend the night at a charming bed and breakfast in Stevens Point before heading out to go birding in the Buena Vista grasslands the next morning.
I have really enjoyed these smalltown venues. Through a grants program of the Council, small nonprofits are able to hire me. Budgets are tight all over, and small town libraries usually have enough to just keep their doors open and the books flowing. This program offered by the Council allows me and others to present our programs and shows in places that would never be able to attract us otherwise. As a result, the audiences tend to be the most appreciative ones I encounter. These events are Big Deals in towns with populations under 1000.
This is why I really enjoy these bookings. I was not expecting what I found upon entering the library on this lovely spring evening, though. There on the refreshment table was a custom baked cake, my program name emblazoned in Royal Icing on top of it!
The program did indeed meet a warm reception from the 40 or so folks attending and a good time was had by all. I can now say in all honesty that they knew I was coming and they baked me a cake!