Family legends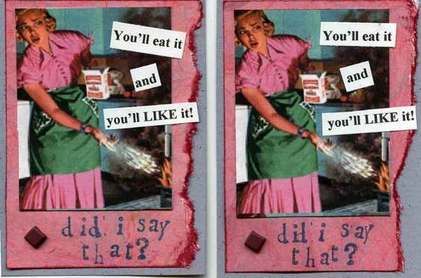 One of the storytelling workshops I offer involves helping others--- storytellers, scrapbookers or simply the family raconteuer--- to save and share their own family legends. The whys and hows I've shared freely in several venues, but one that is easily accessible to anyone reading this entry is but a
click
away.
You might have guessed by the images beginning this post that this bit of family lore involves cooking. It does. The images above are absolutely not my mother, but Artist Trading Cards left over from a swap titled "Oh sh**, I've become my mother!" I've started a new fun venture for myself releasing leftover art projects into the world as
found art
. I honestly can not recall my mother ever burning our dinner. Quite the contrary, Mom is an excellent cook. We ate well as kids. Home made bread every single meal. None of that yucky
Wonder Bread
! Mom liked to try new things and most of her experiments were tasty. Except one.
Mom had the notion in her head that our health and well being would be ensured if only we'd eat enough liver. Another bit of family lore says that as a small girl, I used to gobble it up, proclaiming to anyone whose jaw had dropped upon witnessing this act of carnivorous delight, "I
love
liver!"
I think that's probably not true. Legend. Maybe I loved the fried onions. To this day, the only thing that makes liver even slightly palatable in my mind is the fried onions.
Anyway. Mom would try every so often to sneak some liver into our diet somehow. Most often, this was done on nights when Dad wasn't home, because Dad hated liver as much as the rest of the family. Dad, like Mom, was a child of the Depression, and it was one of the rules in our household that no one left the table until our plates were cleaned. I don't think we ever heard the "starving children in China" guilt trip. It was simply wasteful to throw away food. I really can't disagree with this viewpoint. I still find it almost criminal that grocery stores throw out food that's perfectly fine but no longer "pretty." Too many hungry people living near that grocery store would be happy to have that food, myself included.
I digress from the legend, however. One night at dinner, we were being served meat loaf. Unlike Randy in "A Christmas Story," my brothers and I loved meat loaf. On this particular evening, however, the meat loaf tasted really strange. Not like spoiled meat or anything. More like a tough, chewy piece of ground leather.
No one said anything. We didn't want to hurt Mom's feelings, after all. Silent looks across the table told the story. This stuff was disgusting! What in the world had she done to our favorite meat loaf? It must have been a food experiment gone bad!
I dimly recall that it must have been nice outside, because I had this sense that the fleeting evening hours playing outside were slipping away as I tried to chew and chew...and chew. My younger brothers Erik and Fritz were similarly preoccupied. We just could not down this stuff! We knew what was at stake, freedom to run in the warm evening sun if only we could clean our plates before sides were chosen in the neighborhood "Starlight, Starbright" game. All three of us struggled, aching to get out there but unable to swallow quickly enough.
Looking around, we noticed Dad was not moving much faster. Finally, he voiced the suspicions we'd all harbored.
"There's liver in this meat loaf, isn't there, Betty?"
Silence.
All eyes were on Mom at that point. Would she really have gone to the trouble to grind up liver and make it into meat loaf, all in the name of an iron rich diet? Wouldn't those cool Flintstones vitamins have worked just as well? We'd always hungered for the fun shapes advertised between
"Underdog"
and
"Mighty Mouse"
on the Saturday morning cartoons.
Finally, she spoke.
"I just thought that maybe this way, we could get some liver into the kids without them gagging on it!"
Without a word, Dad walked over to the trash can, plate and knife in hand, and for the only time in my life that I can remember, scraped the offending liver loaf into the garbage.
Turning to the three of us sitting stunned at the table, Dad said, "You
don't
have to eat the liver loaf. Betty, don't ever try this one again!"
We could hardly believe it. Without stopping to give him a chance to reconsider, the three of us were right there behind him, dumping the glop into the garbage and gaining our ticket to freedom.
Mom never did try to feed us liver loaf again. She relinquished her fight to get the stuff into us, waiting instead for those times when she could make herself a plate of her beloved liver to enjoy like a forbidden treat.
She can have it. As for me, I'd much prefer a plate of her homemade fudge. Same color as liver,
far
better in both the taste and forbidden qualities department.
So, share your own family food legends in the comments. Is there anyone whose mother tried to feed them anything more gross than liver disguised as meat loaf?