Time passages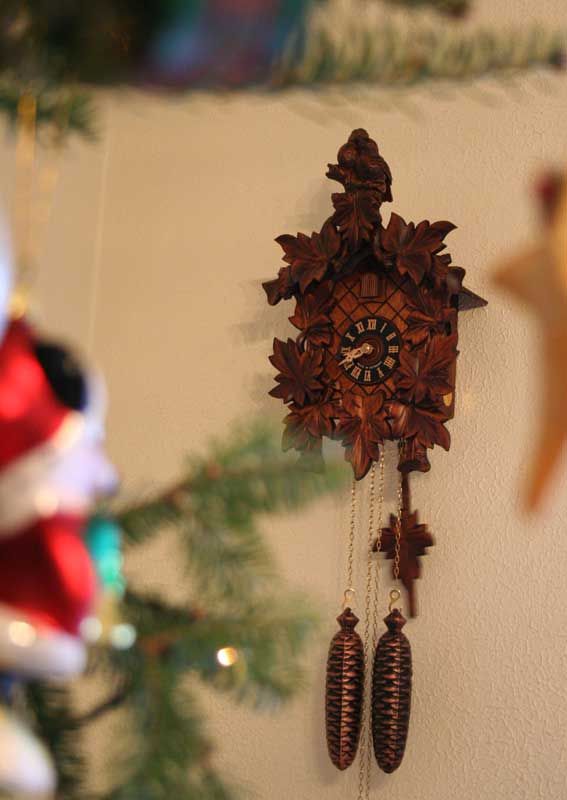 Framed by the Christmas tree of the week past, one can look through to the Black Forest cuckoo clock of the here and now. Even this is a memory of times past, both recent and long gone. Any story will seek to make these kinds of connections, and here, telling its own story, is a very new tangible reminder of something almost lost to the modern world; the visual and audible passage of time.
As a little girl, I was fascinated, as many children are, with the small cuckoo clock that hung in my parents' home. I would watch the little bird pop out, calling the hour. I'd await the time when the pine cone weights would near their descent, touching them if no one was looking, trying to grasp time. At Grandma and Grandpa's house, there was a similar, larger cuckoo clock, perhaps in homage to my Grandfather's German heritage. This poor clock had been placed over a heating vent, so that when that little wooden bird popped out, his marking of the hours sounded positively asthmatic!
I don't know whatever became of the cuckoo with a sore throat, but I do know what happened to Mom and Dad's. Gwyn happened. I really don't remember this, proof that when you're small enough, the bad times are blocked out, but I'm told that I reached out to grasp time, went swinging and down smashed the clock. Though I don't remember it, I do feel badly. I hope my parents have forgiven me that childish transgression, I'm sure I meant no harm!
Last summer, while traveling in the Black Forest region as a teacher leader for
People to People
, I had the pleasure of visiting the
Drubba Clock Factory
in Titisee. It was suitably drizzly, adding to the magical effect of the Schwarzwald, backdrop for this family-owned business. The building itself a giant cuckoo clock, with life-size dancers whirling out on the hour, made for an otherworldly experience.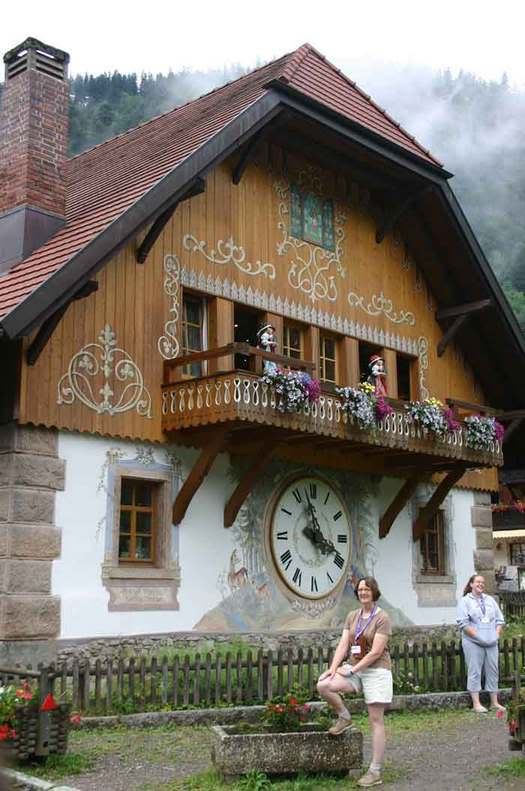 The only thing I really wanted of this trip, besides a Hard Rock Madrid t-shirt, was a nice cuckoo clock. I'm a
birder
, after all. After purusing all my possibilities, I chose a nice, handcarved classic, with the week long movement. It would be a nice marker of our 25th wedding anniversary, I thought. We really didn't have a nice clock anywhere in the house. It was paid for, packed up and shipped home.
About a month later, my clock arrived on my doorstep back in Wisconsin. Securely packed, I carefully opened it, delighted at the smooth, beautifully carved clock face, the sweet little birds perched atop the roof. I lifted out the pine cone weights. Oh my gosh! They weighed a ton! Paralyzed at the thought of my clock crashing out of my wall, the poor clock sat in its box--for months.
Until yesterday. With his new electronic stud sensor in hand, my husband set out to try and discern the best placement for our clock, then, given that the house is old and full of nails in odd places, used a toggle bolt anyway. The clock, as you can see, is up and running. It's new enough that the novelty of running to see the cuckoo call out the hour is still worth dropping whatever we're doing. What is most reassuring, however, is the soft "tick tick" of the pendulum, moving those counterweights floorward. I can't remember the last time I've had a clock that audibly marked the time, reminding me that it's truly transitory, that to mark another hour passed with ceremony is something to savor. In this computer driven, fast-paced world, storytellers seek to slow us all down for a moment, to help bring us together in what is called the "storytelling trance," where all time is suspended and a community, however fleeting, of teller, listeners and story is created.
May the times you created in 2005 be celebrated in stories hereafter!
Cuckoo, cuckoo, cuckoo!