Picking away...or, you CAN teach an old dog new tricks!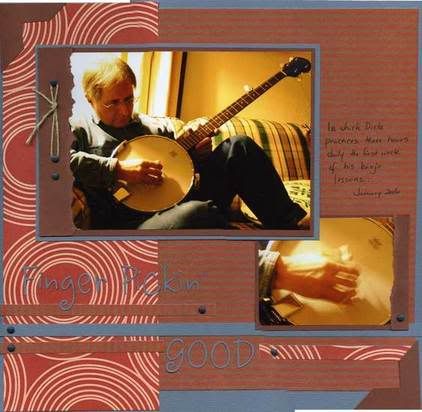 Dick, unstrung! Patterned papers from Grassroots, including new designs premiering at CHA, Las Vegas
My husband has loved bluegrass music most of his adult life. Although one look at his CD collection would tell you he's a Deadhead, look closer and you'll find all the recordings old Jerry did in his bluegrass and jug band days as well. In the early years of our marriage, we'd search out folk music events of all types, and as recently as a year ago, went with all the other aging folkies to a concert under the stars at the
Trempealeau Hotel
, featuring the Nitty Gritty Dirt Band.
Though he loves the banjo, has flirted with the notion of lessons, even, the fact that the man has not had one week of music lessons in his entire life always held him back. He'd find excuses every time the announcement of a new session of banjo lessons appeared in the newspaper. Finally, as often happens in any kind of relationship, someone else took control. I bought a session of lessons for him for his Christmas gift! As I type these words, he is probably tuning up in the large group instruction room at the music store, getting ready to learn the next lesson. He was even more relaxed about going this week, the third week of his six weeks of lessons.
When he opened his gift box and saw the slip of paper with the information, his face went ashen. Our older son simply said, "Make sure he goes, no excuses!" having taken eight years of piano lessons from second to tenth grade himself. We keep telling him he'll never regret that we "made" him take those lessons. He is unconvinced at this point in time, but he's only 19.
My husband was similarly unconvinced. He announced that he would practice an hour a night. I explained that no one can do that after just one lesson, you don't know enough. I underestimated my husband.
Three hours. Solid. I think he stopped to get a drink one time. After about two hours, he was excited.
"I figured out twelve of those things."
"What things?"
"Those dots," he shot back, as if I was beyond ridiculous. He forgets I play French horn, piano and dulcimer, and know a thing or two about music. He meant "notes." I explained that tidbit to him.
"Yeah, whatever."
He practiced every single day until his second lesson for three hours. Since the second week, he dropped back to an average of about 1.5 hours, sometimes logging two on some days. Every single day.
When he came home from his second lesson last week, he was completely excited.
"I wasn't the worst one in class. One woman practiced everything backward! Len said I have good technique!"
Research has shown that one of the surest ways to avoid the effects of Alzheimer's disease is to learn a new skill that requires you to use your mind and body together. Learning a stringed instrument is high on that list of good options. Not only did I give my husband the gift of making his own music, perhaps the gift is also one of mental longevity. We aren't getting any younger.
Excuse me now while I practice my dulcimer. He might come home ready for ensemble playing if he keeps up this learning curve!