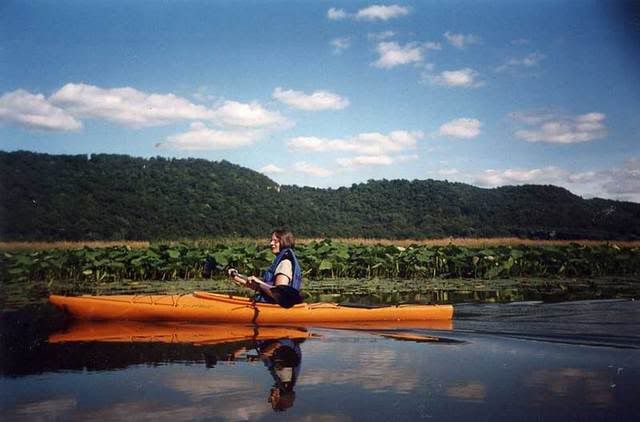 I once had the experience of riding in Loren Niemi's Jaguar, "the car storytelling bought," he told us, adding that it was used and not that much more expensive than a new Taurus that way.
It was a nice ride to the store to buy libations for our Northlands Board meeting wind-down. Can't argue that point. It is probably no small measure of difference in both our storytelling earnings AND our personalities that I am now the proud owner of
"the kayak storytelling bought." The personality difference comes in when I say that had I earned the kind of money from storytelling Loren has, I'd have bought the more expensive composite version of my Kestrel.
Up to this point, the greater majority of any storytelling earnings has gone to one of two places; a favorite cause, like our local storytelling festival or Operation Migration, or things to grow my storytelling, like a bodhran or business cards. This past spring was especially nice to me as far as storytelling went, and I had a nice little sum of money to ponder. Our family has been experiencing a high degree of stress the past few months, and I decided that I would be my favorite charity this go-around! I could picture the quiet waters, paddling silently closer to the birds I enjoy watching, fueling my spirit.
Lucky for me, I was able to take an afternoon and spend it during a local outfitter's demo day. Over and over that afternoon, I'd climb into a kayak, paddle the channel nearby and then return the kayak, climbing into the next one that looked like a possibility. One kayak felt right for me over all the others, the Current Designs "Kestrel." In fact, I think I tried that one at least three times to be sure it wasn't my wishful thinking that my kayak be named for a bird, but reality of comfort. I swiveled with my binoculars, paddled afield and did every other stupid thing I'm likely to do in a kayak. It passed all my tests.
Next day I was at the store ordering up my very own. My husband and I enjoy canoeing together, but after one family sea kayaking trip, he proclaimed that kayaks are not for him. I'm on my own with this one. Actually, my friend Betty, an avid paddler, is with me. My technique has a long way to go. I keep thinking that's a canoe paddle instead. Doesn't matter. I can move through the waters and get new looks at the world that lives in or near the water. On my kayak's maiden trip, I enjoyed watching a family of Belted Kingfishers playing tag for at least half my journey. Close looks at that dive-bombing avian clown are best obtained from such a vantage point. I look forward to many more days on the water, enjoying my first big purchase from my storytelling earnings.