Stories never told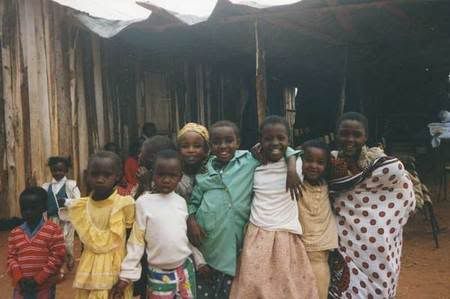 These faces are haunting me today. They should haunt anyone who reads on, but the question I ask is this: Why aren't we hearing
this story
? The world is filled with stories we don't want to hear, but this is one that needs to be told. There are such stories throughout the world that are crying to be heard.
In 1994, I had an experience that would change my view of the world forever. I was fortunate to be part of a short term mission trip to Kenya, guest of the Presbytery of East Africa. For three weeks, I lived with families in Kenya, going about the business of their day. Naturally, they arranged for us to do some special things, but by and large, it was life as usual.
"Life as usual" can take on a different meaning when you take a journey such as this. I truly believe that culture shock is what one experiences when confronted with a very different experience of "life as usual." One of the first aspects of life that hit us full force was mealtime, that very basic and universal human need. After a couple days, when my fellow missioners and I found ourselves together at some church gathering or other, we'd laugh about the meals. Always the same, no matter who was hosting us. Always HUGE piles of food, with seconds and thirds the norm rather than the exception. Irio, which means "food" in Kikuyu, was a green paste made with mashed peas, potatoes and some light seasoning. It was thick and filling, and made its appearance at every single meal except for breakfast. It usually was accompanied by a thin stew consisting of beef or goat, boiled rice, chapatis and fresh fruit. These last two were favorites of mine, the rest eaten politely. The menu varied only in the fruit, for the most part. No matter where we were, church dinner or the honored guests of families living in tin villages, this was the meal of the day. In enormous heaping portions.
Everywhere we went, another constant was the children. Many of the places where we stayed and visited were well out of the realm of European tourists, so the appearance of these "mzungu" was a source of excitement to the kids. From seemingly nowhere, like this church worship service in Masai country on the slopes of Kilamanjaro, kids would appear, smiling for our cameras. We were all too willing to take their photo and play with them. At the time of my journey, my own sons were only 7 and 4, so it let me feel connected in some small way to my boys back home.
It wasn't until we were traveling through some more remote countryside that we became fully aware of the feast/famine cycle that is reality in sub-Saharan Africa. Our host for the day was a Princeton educated clergyman, married to a school teacher. In other words, my peer as far as education and lifestyle. We passed a small village next to the mountain that had clearly been ravaged at some point. Charles pointed out that people had had to flee this location during "the troubles."
Tribalism continues to exist in its modern form here. The food cycle can push the old fights over the edge when the crops crash due to drought, and this had happened only six months prior. Charles shared that during this time, he and his wife would go for days without anything other than water, rationing out what they had for their children. We aren't talking about people in a refugee camp, but the equivalent of suburbanites; a member of the clergy and a teacher.
It was a bit too much for us to even begin to grasp at that point. It did help explain the desire for even the frailest of elderly ladies to pile their plates high at these church dinners. One doesn't know for sure how long a feast cycle will last.
East Africa is in another famine cycle right now, and that's why these faces haunt me today. Many of these children, if they've survived, are young adults now. Are they starving? Are they alive? Relief efforts are always fraught with problems. Graft, corruption, all the usual concerns, but we're still looking at a story of human rights, the right to eat.
My question today asks only this: why are these stories barely heard? Why is the World Food Program reaching this point, where that most basic of human needs, food, may not be available much longer in Kenya? It's a story we haven't been told, so the heartbreak and outrage at this situation isn't felt here. It should be.