A new life chapter
It's both a blessing and a challenge to be self-reliant and independent, especially when both partners in a marriage are this way. When both people have varied interests with which to amuse themselves for endless hours and days, there can come a point where there aren't any interests shared, other than family. With grown and nearly grown kids, also independent-minded, the time arrives to find something shared. Canoeing is always time together well spent, but this is Wisconsin. You can try, but I'd be hard pressed to say that's something that can be repeated throughout the year. Enter
Geocaching
.
Geocaching, you ask? This is an activity that requires the purchase of a little piece of electronic wizardry, a high tech compass called a GPS. The concept is simple; take your little device outside, point it to the sky, and see how many government satellites take a reading from your location on earth to return a set of coordinates to your screen. I find this fact slightly Orwellian myself, but that's just cynical me. With the use of these devices, people place little containers all over the place, adding clues to the website, leading others with the same kind of device on a treasure hunt. Find the cache, log it in, take an item and replace that with another. That's charming enough to erase some of my cynicism about government satellites tracking my whereabouts.
My brother-in-law and his wife took up geocaching two years ago, and I won't tell you how many caches they've found so far. In fact, unlike us, buying a canoe because we love paddling the rivers and lakes nearby, they bought a canoe so that they could access island caches. I am confident they will come to see paddling as a worthy activity in its own right. About a year ago, my husband decided he wanted to get himself a GPS for his wilderness treks. I pointed out that in the 1750s, they didn't have this technology, but that fell upon deaf ears, because he got himself the Magellan eXplorist. With our older son along, he took it out once and made a breadcrumb trail in a nearby park....then let it sit on his desk in the intervening months. I was taking a course at an environmental education center not far from my in-laws this past week, and got together with them for dinner one evening. It didn't take long for them to bring up their favorite pastime. Heck, it's on their vehicle bumpers, back door and Jim's cap!
Jim found it surprising we hadn't tried to find any caches yet. We've been too busy with our various independent interests to really bother. Their enthusiasm was infectious, and heck, it gets you outdoors, which is one thing we both enjoy.
So....checking the caches within my geographical area, I discovered one less than half a mile from our home, along my much loved Rails to Trails bike trail. After about 1.5 hours of frustration sifting through a manual over 100 pages long, we loaded in our "goto" point of interest, and away we went.
My husband would pull his little toy from his pocket every so often to check, even though we could likely have found this one--rated 1 for difficulty in finding and 1 for ease of terrain--without it. That wasn't the point. The point was learn how to use this expensive compass and have a little fun along the way.
Once we got onto the trail, as soon as a biker had passed, he'd check. He didn't want to be viewed as geeky, I guess, hence the wait for any possible onlookers to pass. We found it fairly quickly, using the encrypted clue given at the website, but also using my eyes which are accustomed to searching irregularities in the flora to find birds. Stepping off the trail and removing its cover, we were delighted to see it had a Travel Bug in it. This is a special twist on the hobby. Someone places an item with an attached tag, then follows its travels from cache to cache...sort of a geocaching "Where's Waldo?" Taking the Travel Bug and replacing it with a toy lunch box, we logged our presence and replaced the cache.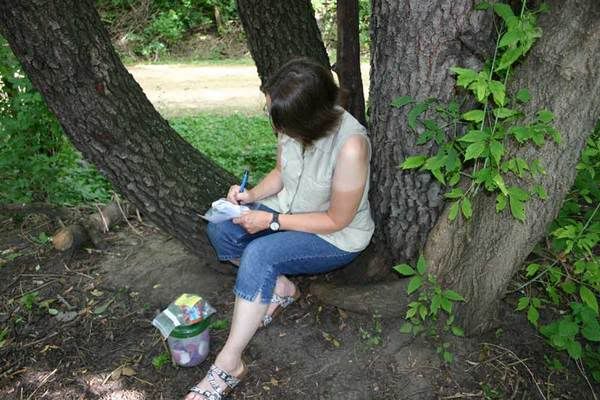 Gwyn logs her first find.
Will we become as driven as my husband's brother and his wife? Not half likely. Still, searching out new spots in areas we see all the time has a certain amount of appeal. This cache has been sitting there for just a few days more than a year. How many times in the past year have I passed this spot on my bike, looking into the trees for birds, only to pass over a container filled with toys? This won't be our sole amusement as empty nesters, but it can certainly provide some enjoyable time together, reverting a bit to our childhoods, searching out hidden treasures in our neighborhoods. Maybe as we watch my in-laws grow to love paddling, we'll grow to love caching. If nothing else, each new treasure hunt is sure to give us new stories to tell.